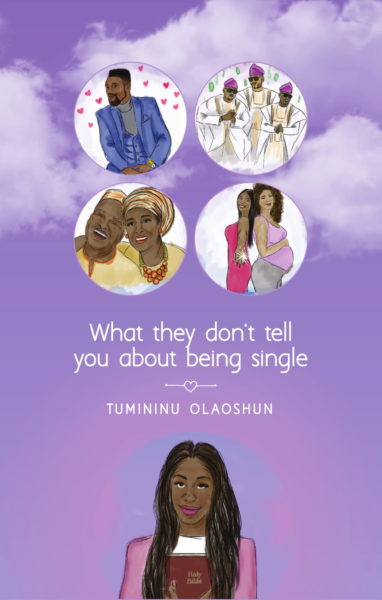 I am on the verge of turning thirty. I can only compare being in your late twenties to being at that party that suddenly just got kind of good and, although you are totally enjoying yourself, you have to keep checking your watch because you know the party ends at 3am and it's already 2:15am and you haven't met anyone worth exchanging numbers with. For a while I saw thirty as being the moment when the DJ says, "This is the last song guys!"
I look at myself and remember turning twenty-one, then twentyfive, and now I am here, knocking on thirty's door and still single. It is not even she's-single-as-in-unmarried-but-has-a-boyfriend. It is single-and-not-even-talking-to-anyone-at-all. As in, at all. And although we seem to live in a generation where being single at this age is perfectly normal, I come from a culture where most aunties are asking when they will wear their aso-ebi (a Nigerian family celebration attire) to my wedding. And my father keeps requesting grandchildren when I ask him what he wants for Christmas, Father's Day or his birthday. So from their perspective, nothing about this single situation is normal.
As I reflect on my twenties, I smile, cringe and then sigh.
I ask myself: "Where did the time go? How did I get here?"
And so it is with these reflections I decided to write this book. The last three years have seen the biggest transition in my personal life to date, probably since I graduated from university. I decided I would pen the experiences I have been through as I wait for my Mister Man and share the things they didn't tell me about being single.
The first time I read those ominous words, "any guy would be lucky to have you", I smiled. In my head that obviously meant "I am lucky to have you". No. No, it didn't. At all. To be fair to myself that was around four years ago and I would like to think I have matured a bit since then. However, when my MB uttered those very words to me after spending a whole day together, I was on cloud nine! Sorry, I lost you at MB – that's a Mental Boyfriend. You probably know someone who had one or currently has one. Or maybe you have one.
A MB typically has the following characteristics, but terms and conditions apply, and each unique case and experience may be different:
• He is likely to be the first and last person you speak to most days
• He is the first person you think of when you want someone to go to the cinema, dinner or just chill with
• You have private jokes that only you two get (it's really sweet to see it in action)
• When he is around you he is totally besotted with you
• You guys are actually friends
• He knows your strengths and faults and still accepts you anyway
• Most of your friends know about him and have probably met him
• You've heard about most of his friends
• Everyone tells you that you should be together and in fact, most people think something is already going on
• You always deny this, but deep down he makes you super happy – aww!
• Like God said to Abraham, he says you are his friend
• He says things like "any guy would be lucky to have you"
• He could also one day tell you he wants to introduce you to his girlfriend, because, shock horror…you are not his girlfriend!
• You are Mario – you are just a friend!
There could be many more, and maybe like me you have ticked one too many of these boxes. Yes, the horror of the MB is that he occupies the mental and probably emotional space of a boyfriend, but he is very much just a friend. And this makes him well within his rights to be available to another girl he really wants to be with. You know, the girl he feels really lucky to have.
I share this with you because this was literally my reality. I was fully caught up in a MB "situationship". I really believed with all my being that one day he was going to open his mouth and share with me how much I meant to him and how he wanted to make it official. You know, make official what I really knew, that I was wifey material and he just wanted me to himself.
In fact, I was thinking those very thoughts when I was scrolling through Facebook and saw his notification. My MB was in a relationship with…! I could not believe it. How was he going to get into a fully pledged relationship and let Facebook tell me? How could I possibly be the only one he felt comfortable sharing his secrets with, when he had found the time to meet, talk to and get into a relationship with someone else? And that was when it hit me. When he said to me, "any guy would be lucky to have you", he wasn't trying to be humble or be modest. He was letting me know he realised I had some great qualities but he doesn't want them.
A moment with Christ
Lord, I thank you for all the amazing traits and gifts you have given me. I am grateful for all the positive relationships I have in my life that have moulded me into the person I am today. I thank you for all the trials and tests I have been through, because through them I have uncovered another layer of strength and beauty within me. Lord Jesus Christ, I ask you to mend my broken heart regarding this situation. I ask you Holy Spirit for the wisdom to guard my heart in practical ways so that I don't spend time sowing seeds on dry ground. I pray, that you will give me grace to put my faith and hope in you, that you will lead me to the right person who truly believes that he is blessed to have me. I ask for discernment to manage the right expectations from all the relationships in my life. I know that concerning the heart and relationship issues, hope is expensive but because of the cross and the awesome sacrifice you paid for me, I can afford to hope in you. In Jesus' name, I pray.
Scriptures for meditation
Luke 1, Proverbs 4:23 and Psalm 17:6-9.
Reflection
What mistake do you think you made that led to you being hurt?
What practical steps will you take to heal?
**
About the author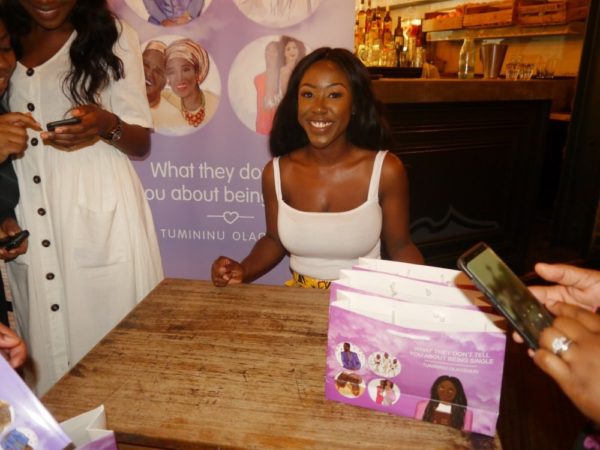 Written, while being a full time teacher in North West London, 'What They Don't Tell You About Being Single' is an inspirational dating and relationship book that opens up about vulnerable matter of the heart that single people, especially single women, have to face in 2018, in a truthful, light-hearted and honest manner.
As a 30-year old singleton, Tumi openly shares her experiences, not only of being a single woman, but also of navigating the dating world as a Christian, with the added element of upholding her Christian value, and she has still made the book relevant to everyone, not just Christians, and definitely not just single women.
From sex before marriage to how to suss out if a man is being intentional or not, to whether or not the woman should be making the first move, Tumi wants to spark an open and honest conversation among young single women in a safe space, free from any judgement, starting with her own experiences on What They Don't Tell You About Being Single'.
You can purchase the book in any of the following places:
Amazon – https://www.amazon.co.uk/What-they-about-being-single-ebook/dp/B07DY23GYL/
Okadabooks – https://okadabooks.com/book/about/what_they_dont_tell_you_about_being_single/19221
On Tumi's website – http://www.tumininu.com